Sometimes, the Lives of Readers intersect with mine in interesting ways. This is one such story, and it started in 1971 — though I didn't realize the connection until much more recently.

Dr. Fred Brooks became a Premium subscriber in early 2004, after who-knows-how-long on the free edition distribution. He used his work address at the Computer Science department at the University of North Carolina.
People working or studying at departments of Computer Science, Computer Information Systems, and related fields at major universities have always been well represented in True's readership, since they had access to the Internet earlier than most. I've recognized many of their names as they have subscribed over the years.
But I didn't recognize Fred's name — not at first, at least.
Blast from the Past
Back in 2007, I wrote about my forward-looking Junior High School math teacher, Adrienne Drummond-Hay, in Menlo Park, Calif., who introduced me to computers in 1971. She had received permission (and a grant?) to bring computers into her classroom. That was in the form of two Model 33 Teletype machines as terminals, and we'd dial in (with 110-baud acoustic couplers) to where the computer actually was, 7 miles away in Mountain View — a Hewlett-Packard 2000C that was leased out to any business that wanted time …at $5.00/hour! (That's the equivalent to $33.50/hr in today's dollars.)
Their hourly rate was significantly higher if the customer was lucky enough to have a 300-baud terminal and modem. Today, I can still remember the phone numbers to dial for access — the 110-baud and the 300-baud number I never got to use!
Mountain View is part of "Silicon Valley". In 1956, William Shockley established Shockley Semiconductor Laboratory in Mountain View, the first company to develop silicon semiconductor devices in the area. That is how the Santa Clara Valley became known as Silicon Valley.
Today, many of the world's largest technology companies are headquartered in Mountain View, including Google (and its parent, Alphabet Inc.), the Mozilla Foundation, Intuit, as well as major offices for Microsoft, Symantec, 23andMe, LinkedIn, Samsung, and Synopsys.
Even before the Shockley Lab, tech was already well rooted in the area: Naval Air Station Moffett Field was established on the shore of the San Francisco Bay in Mountain View in 1933, which was expanded into Ames Research Center in 1939 — the second research center for the National Advisory Committee for Aeronautics, which later became NASA. Ames still plays a vital role in NASA, especially in astrobiology and, yes, supercomputing. IBM had established a lab in nearby San Jose in 1952.
In Palo Alto after World War II, Stanford University's dean of the School of Engineering, Frederick Terman, encouraged faculty and graduates to start their own companies. In 1998, a bit more than two years after True went online, Stanford Ph.D students Sergey Brin and Larry Page continued that tradition, developing a search engine to catalog the web sites exploding onto the early Internet. They called it "BackRub", but later renamed it Google.
Back to 1971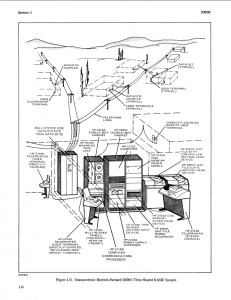 I stayed after school most days, along with several other guys (and, at that point, they were all guys), to learn about the computer via the terminals in Mrs. Drummond-Hay's classroom. That led me to view computers simply as a tool, not some mysterious box to be feared.
The problem that cropped up: summer. With school out, I no longer had access to the computer! Dr. Herb Ludwig, a neighbor whose kids I used to babysit, was a Computer Science lecturer at Stanford. He let me audit his summer class in 1972. Stanford's main computer: an IBM 360/67, running the Stanford-written ORVYL time-sharing system.
The Project Manager tapped to lead IBM's System/360 computer hardware development, and its OS/360 software support package: Fred Brooks, who reported directly to IBM Chairman Thomas J. Watson Jr. The "System" — called that because it could be ordered in many configurations that were all compatible with each other — was announced in 1964, with deliveries starting in 1965.
Its base memory was a whopping 8 KB. A company (or government agency) could buy a system that fit their needs knowing that as their needs increased, they could upgrade their computer.
Fred previously worked on the architecture of IBM's 7030 "Stretch" — IBM's first transistorized supercomputer that was, at its introduction in 1961, the fastest computer in the world. It was still slower than expected, and thus considered a "failure." But it served as the base design of the System/360, which was hugely popular. Stretch was important: in 1957, Brooks co-invented an interrupt system that introduced features still used in computers today. Brooks coined the term "computer architecture."
A Huge Leap Forward
Brooks, along with Stretch and System/360 developer Eric Bloch, and Bob Evans, who convinced Watson to drop the various models of IBM computers in favor of a multi-level compatible "System" of computers which became the 360 series, were awarded the first (1985) National Medal of Technology and Innovation from President Ronald Reagan "For their contributions to the IBM System/360, a computer system and technologies which revolutionized the data processing industry."
Other recipients that year included True reader Steve Wozniak, and Steve Jobs, "For their development and introduction of the personal computer." (The year after another of my favorite IBMers, Reynold B. Johnson, won "For his invention and development of magnetic disk storage.")
In 1999, Brooks won the Turing Award "For landmark contributions to computer architecture, operating systems, and software engineering."
Brooks won the Franklin Institute's Bower Award in 1995, crediting him with defining "a concept of computer architecture that separated computer software from hardware, allowing those two fundamental realms of the computer age to develop dynamically and independently."
What made the 360 so interesting was that it could be expanded: memory up to a massive 8 MB, and higher and higher capacity processors. Hence different designations: the Model 30 was the smallest; Stanford's /67 was significantly higher powered, leaving "my" little H-P 2000C in the bitdust.
The upshot is, I got to be in Dr. Ludwig's Stanford summer session class teaching the basics of computer science, using the university's 360/67, another major benefit of happening to grow up in Silicon Valley. Though being too young to drive, I had to ride my bike to the Stanford campus (about 4 miles).
Being the writer type I always was, I wrote a paper — using the WYLBUR system editor as a word processor — for extra credit, which Herb said boosted my theoretical grade to an "A". (I think he was being generous because I was only 13.) While the paper may have been trivial in its insights, I did learn the wonderful power of Search & Replace (and note it could even right-justify the text!)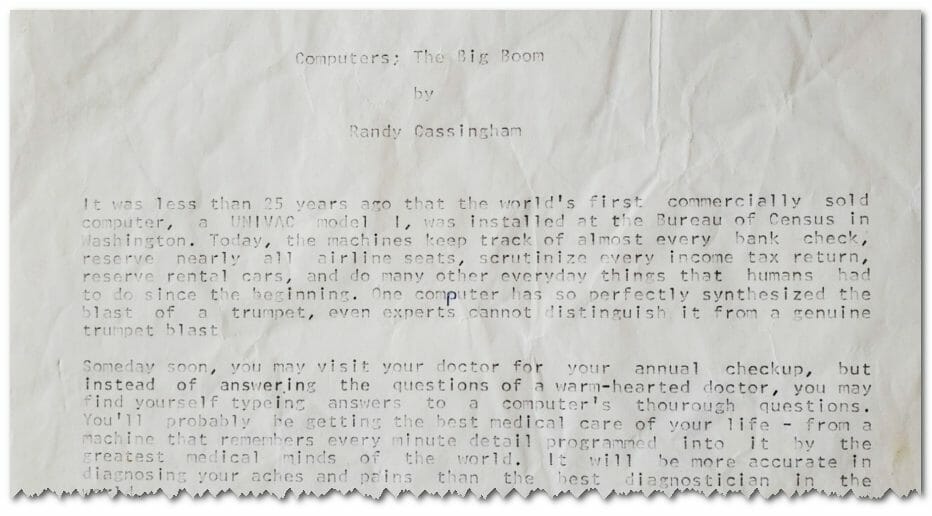 An Innovation We Can All Appreciate
Then, as now, I'm grateful for the thing that Fred Brooks is most proud of. "The most important single decision I ever made," he told the Computer History Museum in 2004, "was to change the IBM 360 series from a 6-bit byte [character] to an 8-bit byte, thereby enabling the use of lowercase letters. That change propagated everywhere."
The H-P 2000C and the teletypes were ALL UPPER CASE ONLY. I'm extremely pleased that I was able to express my thanks for the improved "Human-Computer Interface" directly to Dr. Brooks.
Once the System/360 project was complete, Brooks apparently yearned to pass along his knowledge: in 1964 he accepted an invitation from the University of North Carolina in Chapel Hill to found their Computer Science department — only the second free-standing, doctorate-granting computer science department in the United States.
IBM wasn't miffed, but rather supportive, offering a $100,000 grant (equivalent to around $1 million today) to establish the department. Brooks, then only 33 years old, said the money should instead be split among UNC-Chapel Hill, Duke University, and North Carolina State University to "establish a pillar of computer science" in the Research Triangle the universities anchored. That collaboration continues, and today all three universities have well regarded computer science programs, which in turn led IBM to build its biggest office complex in the Research Triangle Park.
Dr. Brooks chaired the department for 20 years, and continued to work there for the rest of his career,  teaching while researching virtual environments and scientific visualization (aka "virtual reality"). He didn't fully retire until 2015.
Imagine what his students are doing now!
When Brooks left IBM, Watson asked him why it was so much harder to manage software projects than hardware projects — Brooks had done both for the company. "Adding manpower to a late software project," he replied, "makes it later." That became known as Brooks' Law, and Fred expanded on that idea in his seminal 1975 book, The Mythical Man Month,* which (in a new edition) is still in print today.
Crossing Paths
Having Fred Brooks as a reader makes me awe-stuck at the confluence with my early computing years. So even though I never had the privilege of studying with him, Brooks still had an important impact on my life, helping to lead me to become one of the first people in the world to use the Internet as a platform to make a full-time living.
As Fred once said about his lengthy tenure at UNC, "The wonder is still there; that's why I'm still here." And exactly why True is in its 28th year, and counting.
Dr. Brooks turns 91 this spring, and made the decision to let his Premium True subscription run out; this week will be his final issue. "So thanks and farewell," he wrote. I replied to ask if I could write about him and his impact on me, telling him some of the things I wrote about above. (I don't reveal the identity of readers without permission; there are many well-known names among them.)
"Wow!" he replied. "I had no idea you'd recognize my name, much less know so much about my career. You may mention me by name in your blog, so long as you don't get it confused with the Honorary Unsubscribe."
Hah! Fair enough. Live long and prosper, Frederick Phillips 'Fred' Brooks Jr. As I say about the Honorary Unsubscribe, "These are the people you will wish you had met." I haven't had the privilege to meet Fred in person (yet!), but it was my honor to entertain and inform him for around 20 years, and correspond with him by email so he could know of my admiration.
Shortly after that I got an order from Dr. Rob Katz, an expert in data visualization, and I couldn't help but notice his UNC Computer Science email address. I popped him a note saying I'd be writing about Fred, and might he have any interesting stories about him?
"Somehow I suspect you have weird connections with many people 🙂 ," Rob replied. "I didn't have too much interaction with Fred while I was a grad student there," he continued, but he had one story:
He was already an icon by the time I was there in the '90s, and at some point he was honored with a bust that was displayed in a big common area. Well, one night someone dressed up his bust in a bright tie-dye shirt and sunglasses and maybe a hat. We all had a good laugh the next morning, and I figured the added stuff would disappear by the end of the day. But no, "Fred" stayed dressed in his new style for months! So I guess he had the rare quality of being able to laugh at himself.
Thanks much for your long support for This is True, Fred, and for the contributions you made to make computers better for us all.
Denouement
Dr. Brooks died 17 November 2022. He was still 91. I'm pleased that he was able to read this page.
– – –
Bad link? Broken image? Other problem on this page? Use the Help button lower right, and thanks.
This page is an example of my style of "Thought-Provoking Entertainment". This is True is an email newsletter that uses "weird news" as a vehicle to explore the human condition in an entertaining way. If that sounds good, click here to open a subscribe form.
To really support This is True, you're invited to sign up for a subscription to the much-expanded "Premium" edition:
Q: Why would I want to pay more than the minimum rate?
A: To support the publication to help it thrive and stay online: this kind of support means less future need for price increases (and smaller increases when they do happen), which enables more people to upgrade. This option was requested by existing Premium subscribers.