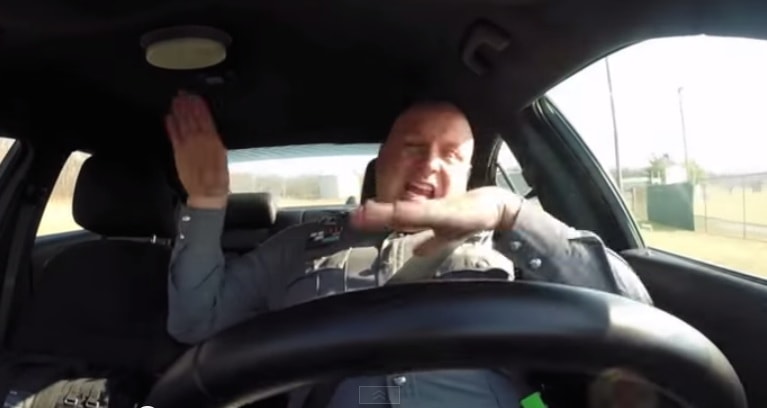 OK: Call Me a Contrarian. Sure the lip-synching cop was entertaining! The song is fun, and who can't like the earnest and drop-dead gorgeous (and cute!) Taylor Swift?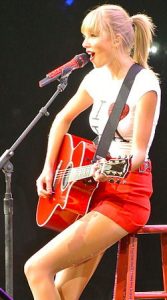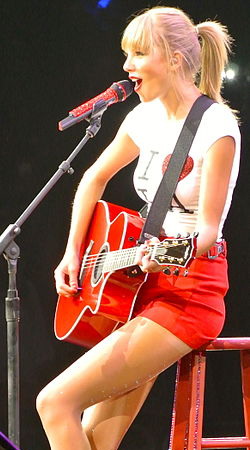 But really: we are in a cycle of big distrust of cops in this country, so their solution is to lie about just happening to find this video of the cop in their random review of dashcam footage?
But let's start with the story first, from True's 18 January 2015 issue:
Shake It Off(icer)
Once posted on Facebook, the video instantly went viral, getting nearly 12 million views in the first 48 hours, not counting countless copies others re-posted. The video purports to show a Dover, Del., police officer, Master Cpl. Jeff Davis, in a dashcam video that the department happened to catch "while reviewing in-car cameras," as it notes at the start. Davis lip-synchs and dances in his seat to Taylor Swift on the radio in a rousing edition of "Shake It Off" ("I keep cruising / Can't stop, won't stop moving / It's like I got this music / In my mind, saying it's gonna be alright / Cause the players gonna play, play, play / And the haters gonna hate, hate, hate / Baby I'm just gonna shake, shake, shake / Shake it off!") But it was all staged: Davis, shown waving at other motorists as he patrols, is really in a "secluded parking lot." The video was recorded in two takes over 15 minutes, hitting the lyrics right on, thanks to Davis having a 10-year-old daughter who likes Swift. "When you drive around in a car all the time listening to Taylor Swift," the 19-year veteran officer said, "you get to know all the words and like her songs." Dover Cpl. Mark Hoffman suggested the video, and the specific song, and Davis was happy to play along. "We're trying to humanize police officers," Hoffman explained. "People tend to look at us as robots with uniforms and gun belts so we wanted to a show a lighter side of our force." (RC/CNN) …Sadly, we're already familiar with faked video evidence. What else you got?
Just about every write-up of the video I've seen, whether on linkbait web sites or news sites, talks about how Officer Davis was "caught" singing along with the teen idol: they all took it hook, line, and sinker.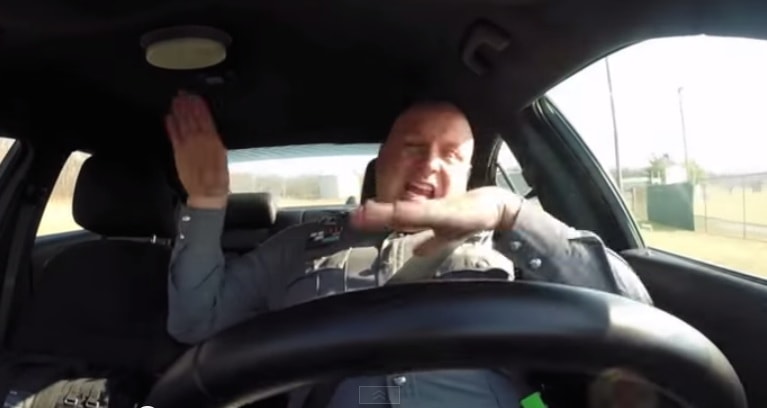 Yet few have realized the obvious: that police car dashcams look forward, not at the cop behind the wheel! The only way this event could have been seen is if the officer turned his camera around, so it's obvious that this was staged.
(Note: I'm informed that some dashcams now also take an interior view.)
Even if that detail doesn't occur to the viewer, journalists falling all over this story still should still have been suspicious as they watched the video: I noticed the cop kept waving at other motorists …who then couldn't be seen in the background as he drove on. So I dug in and found that Dover PD admitted it was all a setup, so that's how I reported on it, once I found a mainstream source that got more detailed in their reporting than the rest — good for you, CNN!
Missing the Point
But it's fun! people say. So what's the real issue here? That Dover PD thinks that faking it and lying is a great way to regain the public trust!
Seriously?
Here's the four-minute video:
Aw, Shake It Off, Randy!
It's not "anti-cop" to want true professionalism in our police forces. We grant them huge powers, up to and including killing us, the people who employ them. But it's undeniable that a small number of them abuse our trust. There's a great example of just that in another story, also in this week's issue:
Oh, Well That Makes It OK, Then
Daniel Flannery, 46, a police officer in Cleveland, Ohio, not only got drunk off duty, he got into a fight at The Frosty Beaver Saloon, and allegedly threatened to kill two men. Not only that, but he lost his department-issued firearm and his badge in the process. And then, he kept the facts from the department for days, until the story finally came out. Flannery was fired, but appealed the dismissal — on the grounds that other officers did even worse things, and they didn't get fired. "The officers cited in the other cases have committed assaults, domestic violence, theft, felony offenses, untruthfulness, and other violent crimes, and have been allowed to keep their jobs with the city," whined a representative of the Cleveland Police Patrolman's Association — on the record in arbitration hearings. It happens that the U.S. Department of Justice had been investigating the department. Six days after its "highly critical" report was released, noting that Cleveland's police officers are often not held accountable for unprofessional actions, a federal arbitrator agreed with the police union, and ordered Flannery reinstated. (RC/Cleveland Plain Dealer) …The arbitrator chose the wrong corrective action.
So while the federal arbitrator is perpetuating the problem found by the federal investigation, the city is trying to do the right thing and hold officers accountable. A detail that I didn't include in the story, because it was already getting far too long, is this quote: "This is just one of many cases where the right actions by the city were taken to terminate or discipline [an officer] and the courts/arbitrators have overturned the decision," said Cleveland city spokesman Dan Williams.
In other words, maybe the cases of officers who "committed assaults, domestic violence, theft, felony offenses, untruthfulness, and other violent crimes," were also overturned "by the courts/arbitrators."
Damned if They Do/Don't
The city is trying to rein in the bad cops, but they're being thwarted. Maybe they did let too many bad cops slide — and if they did, they have to let more bad cops slide?! A federally mandated case of two (or twenty) wrongs making a right. But it's not right; far from it.
Flannery, the cop in this story, even "admitted to carrying his … gun into the bar, drinking at least three drinks, [and] losing his gun," but did deny the fistfight. So someone is lying: a drunk cop? Or multiple witnesses? I know where my bet would be. And he did all of this despite having gone through an Alcoholics Anonymous program. Obviously, it didn't take.
The city should not only have the right, but I think has the duty to protect the public from a cop who has proven he can't get it together. Surely there's a different job he can do, rather than one where he carries a government-issued means to kill, and may have to make intelligent split-second decisions whether to use that tool. By losing that tool, and then hiding the fact from his supervisors, he has proved he's not cutting it, yet the city is prohibited from cutting this huge liability loose. Outrageous — and also hugely damaging to the police profession.
Demanding Better
We need to be able to trust the police. Some cops have broken that trust, damaging the reputations of the vast majority of police officers who are well educated, highly professional, and responsible. So yes, we need the ability to fire the bad ones. And yes, a fun video can show cops are human too, not "robots with uniforms and gun belts."
The way to fix the problem isn't by faking that a cop was "caught" being human, but to letting them simply be human — and either celebrating that, or ending their careers when they can't keep hold of their tempers, badges, and guns. Is that really too much to ask?
And I say this as a former sworn peace officer myself — a sheriff's deputy in California who wore one of those gun belts.
So what would I suggest? Cleveland should sue the feds for the right to fire bad cops, after demonstrating that their rules are reasonable and fairly applied — no going overboard in the other direction. The past is the past: as the DOJ report notes, they did a poor job before. The solution is to let them fix that, not force them to keep making bad decisions.
Meanwhile, it's fine to make fun videos, but not to lie about their origin — there's enough distrust already. We require a high standard of truthfulness from law enforcement, and we should expect them to uphold that standard always. Always. Because if we can't trust them when it doesn't count, it creates doubts when it does.
Now, scroll back up and hit "Replay" on that video and rock out, now that the truth is clear!
Note Added Later: a lot of comments on this, on Facebook and elsewhere, have pointed out the officer often doesn't have his hands on the wheel. First, do you always keep both hands on the wheel? And second, again, this is staged and not on open roads. His hands not being on the wheel are just another clue about my point!
– – –
Bad link? Broken image? Other problem on this page? Use the Help button lower right, and thanks.
This page is an example of my style of "Thought-Provoking Entertainment". This is True is an email newsletter that uses "weird news" as a vehicle to explore the human condition in an entertaining way. If that sounds good, click here to open a subscribe form.
To really support This is True, you're invited to sign up for a subscription to the much-expanded "Premium" edition:
Q: Why would I want to pay more than the minimum rate?
A: To support the publication to help it thrive and stay online: this kind of support means less future need for price increases (and smaller increases when they do happen), which enables more people to upgrade. This option was requested by existing Premium subscribers.