Well, that's the way it felt, anyway! For a brief moment.
Last fall I talked about helping a helicopter to land — in the middle of the highway in the middle of the night. Just got back from doing it again, except this time it was the middle of the day …and I had my camera ready.

Out and About
I had to pop into town to get a few things. "Town" is in the next county, about 30 minutes north. I had my pager on me, but coverage is a bit flaky up there, and I didn't hear there was a call. (Not that I was needed; it was 40 minutes south of my house.)
When I got back in the car to head back to the office, I heard Ouray's ambulance say they were headed to the hospital. Huh, I thought to myself. Wonder what they have?
Two-thirds of the way home is the tiny unincorporated town of Colona — where we landed the chopper in September. It's literally a wide spot in the road, thanks to passing lanes in the highway starting at the south end of town. Straight, too, which is why it's a great place to land a helicopter when needed.
Just as I was approaching Colona I heard the ambulance ask Dispatch to put the chopper on standby, with Colona as the landing zone. I guess they have something, then! I thought to myself. When I got to Colona I pulled over to wait and see if they wanted the chopper to launch.
About a minute later, the answer was yes: launch the chopper, to Colona.
I told Dispatch and the ambulance that I was in Colona, and would assist in the landing. The on-duty sheriff's deputy was 20 miles away, but he hot-footed it my way to take the other end of the four-lane stretch. Chopper ETA: 16 minutes, Dispatch reported.
Unlike last time, that gave me a moment to set things up. I told Dispatch what frequency the chopper should use to contact me ("FERN" — a fire department mutual aid channel). And I grabbed my camera, and strapped it to my wrist!
Convergence
I got the ETA for the ambulance and the sheriff's deputy. Pretty much, they — and the chopper — would all converge on Colona at the same time. A lot would happen all at once. I donned my day-glow yellow safety vest, and watched the clock.
The ambulance arrived first; I had them park behind me. I called for the chopper on FERN, and found they were a minute out. Rich, another First Responder who heard the call, arrived, and I sent him to the south end to close the road immediately. He pulled over and jumped out to stop traffic as I pulled my car around to stop the other direction. The sheriff's deputy arrived to reinforce Rich's position.
The only problem: the chopper wasn't replying on the radio. I pulled it off my belt and looked at it: maybe it got knocked onto a different channel? Nope: the screen read "HW EEPROM ERR" — it had failed. One hell of a time to do that!
As the county communications guy, I (almost always!) have another radio. I grabbed another mic, called them, and they responded this time (whew!) I gave them wind conditions, and noted that there are no wires strung across the highway in this area, and that the highway is closed for them — it's up to the pilot to decide exactly when and where to land.
We had 200-300 yards between the two traffic control positions, but the chopper pilot had other ideas:
But at the last second…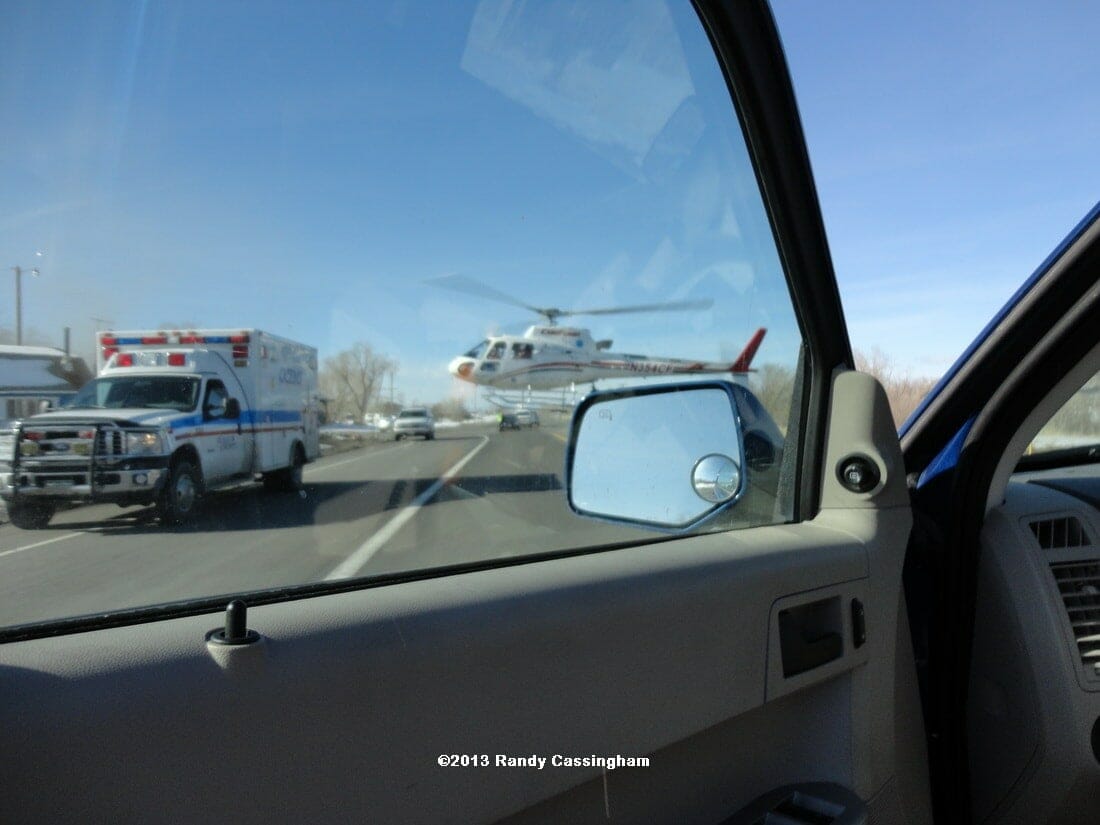 I'm ducking behind my door since I knew the rotor wash would blow a bunch of sand and such at me. My hand is on the door because I know the wind is going to try to slam it on me. It did try, but I was ready!
Ready to Help
Typical flight crew: a pilot, a flight nurse (who is capable of doing high-level medical interventions), and a paramedic (who has a lot of "street" experience and can get patients packaged up quickly, as well as assist the flight nurse).
I know Bob: he's one of our local Medics who also works shifts on the local chopper. I thought I had recognized his voice on the radio!
Once everything was secure and the blades wound down to motionless, I pulled my car around so it was "outside" the scene to block traffic:
As the flight nurse and medic checks out the patient, the pilot gets out and surveys the scene.
Imagine if you were the guy in the white Suburban, thinking you were well out of the way, and a helicopter lands on the road right in front of you! I told him he might want to back up a bit, since when they take off they'll blast sand again. He thought about it for a few minutes …and backed up.
It's fairly traditional for the pilot to speak to the ground officer, so she popped over. "Did you get confused by the way my car was pointed?" I asked her, surprised that she chose a really tight "parking spot" to land, rather than the huge wide-open space we left for them between the two control points. "No," she said. "I just saw I had enough room there, and I asked the paramedic, 'Shall I just set down there?' and he said 'Yes! Closer is better!'"
I'm gonna have to have a little talk with Bob: the ambulance has wheels, and once the chopper sets down, ambulances actually have the amazing ability to move — they can drive up to choppers, getting as close as the flight crew wants!
Best Facility
I can't talk about the patient's condition, but she needed care that she couldn't get in Montrose. St. Mary's Hospital in Grand Junction, 70 miles north, has the ability to handle neurological problems (such as head injuries and stroke cases), and Montrose doesn't. Patients with such conditions get transferred to St. Mary's anyway, and often by air, so why not shave 20 minutes off the transport and send the patient directly to St. Mary's? That's what happened here.
Once they had the patient bundled up, I knew they'd leave pretty quickly. I pulled my car another 10 yards away to keep it from getting sandblasted, and switched my camera to "video" mode to get the takeoff:
(The link at the end of the video is a shortcut to this page — https://owowi.com/chopper.)
Why can't you see my light bar flash very often? The strobe flashes are really brief, and so is the time the shutter is open for video. They don't correspond very often. The LEDs on the front grille are more obvious in video.
At least they didn't actually go right over our heads. You can (barely) see Bob waving from the back window as they go by.
– – –
Bad link? Broken image? Other problem on this page? Use the Help button lower right, and thanks.
This page is an example of my style of "Thought-Provoking Entertainment". This is True is an email newsletter that uses "weird news" as a vehicle to explore the human condition in an entertaining way. If that sounds good, click here to open a subscribe form.
To really support This is True, you're invited to sign up for a subscription to the much-expanded "Premium" edition:
Q: Why would I want to pay more than the minimum rate?
A: To support the publication to help it thrive and stay online: this kind of support means less future need for price increases (and smaller increases when they do happen), which enables more people to upgrade. This option was requested by existing Premium subscribers.