One of the things I like about being on the rural side of Colorado is the frequent wildlife sightings. Bunnies and jackrabbits are common. On our property, we've also seen coyotes, deer, elk, a badger(!), a bear (alas, only my wife saw that one), prairie dogs, eagles (both Golden and Bald), vultures, foxes, and while we didn't see the animal, we've found mountain lion tracks here.

On Wednesday (13 February) my assistant, Clare, called out, "Bobcat!"
I turned around and she was looking out the window. I quietly popped over to her desk and sure enough, the cat was only about 15′ away. The only camera I had was my cell phone, and I grabbed it and snapped this through the window as it walked by:

A really neat photo, but I sure wished I had a better camera with me. (Not to mention it was just before sunset, so it was in full shadow.)
Well, this morning, I finally remembered to grab my good camera — the Canon EOS T3i with its 15-85mm Image Stabilizer Ultrasonic lens. And sure enough, this morning Clare called it out again: "The bobcat's back!"
I was gleeful to have my good camera. I grabbed it and went straight for the window:

I estimate him at 18-24″ at the front shoulder. Then I tapped on the glass lightly so he would turn around: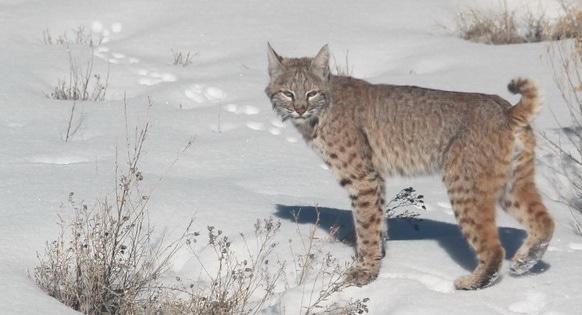 What was he looking for? I'd guess bunnies: those are rabbit tracks going off in the direction the bobcat is following. I noticed one run by my window earlier in the morning — I had watched it, wondering if I'd see anything chasing it. Nope.
I let my wife know we had a second sighting, and she walked up from the house (the office is next door), but she didn't see it. She had to be satisfied with seeing the fresh tracks: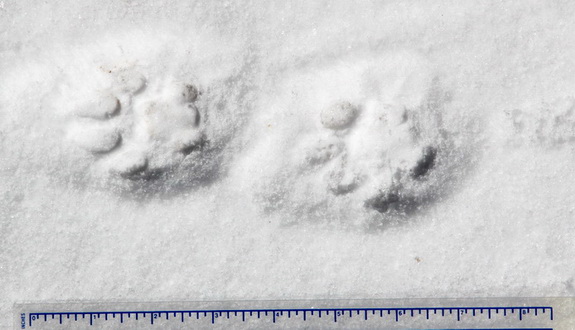 Bobs are pretty shy: I've never heard a report of them attacking humans. They avoid people, but we see them around here because the average lot size in my area is 40 acres. Not all of those lots have houses, and there is plenty of totally wild land around here too, including BLM reserves.
That makes for all sorts of animals running around — or flying around. A few months ago, before the snow started to fly, my wife and I were headed to town when we spotted something at the brambly top of a tall pine tree. I had my camera (and the same lens) in the car, and stopped to take some shots. It was pretty far away to shoot with such a wide-angle zoom, but he looks majestic enough, eh?
It's actually common to see bald eagles around here, though they usually prefer hanging around the river, which is about two miles east of here.
Here's the wider angle of him surveying his turf:

Yep: we just love living here!
Update
My wife reminds me of another animal we saw here — something we had never seen before in the wild.
One day in November 2006 I went out to the garage, and noticed the cats were circled around a shelf where we keep garden tools. I also noticed a horrible odor. I figured the cats did something stinky, but they attracted me to their intensity: they were fixated at the bottom of that shelf. I pulled out a flashlight, got down on the floor, and looked.
Something looked back.
The cats were fascinated, but didn't want to go anywhere near the thing! I grabbed a broom handle and coaxed it out: it was an ermine, which quickly scampered over to the relative safety of the plumbing. At least it was open enough that I could get a photo of the skinny — but very long — little rodent:
Ermines are in the weasel family, and during the winter, their fur turns white so they blend in with the snow. The white fur in paintings of royal robes of old? Ermine.
I managed to help the beast find the door, and it ran like crazy. I also managed to keep the cats from seeing it escape, so they were a bit perplexed. We've seen it out there from time to time.
– – –
Bad link? Broken image? Other problem on this page? Use the Help button lower right, and thanks.
This page is an example of my style of "Thought-Provoking Entertainment". This is True is an email newsletter that uses "weird news" as a vehicle to explore the human condition in an entertaining way. If that sounds good, click here to open a subscribe form.
To really support This is True, you're invited to sign up for a subscription to the much-expanded "Premium" edition:
Q: Why would I want to pay more than the minimum rate?
A: To support the publication to help it thrive and stay online: this kind of support means less future need for price increases (and smaller increases when they do happen), which enables more people to upgrade. This option was requested by existing Premium subscribers.