Two stories this week will, I think, generate some comments from readers. One has a zero tolerance theme, and the other is a minor political scandal. They're both from True's 19 February 2012 issue.

First, the zero tolerance offshoot, where school officials demand to have a say in a kid's outside-of-school life:
Tats for Tots
After Malik Napier, 12, of Acworth, Ga., was hit by a car and killed, his brother, Gaquan, 10, made a request. "My son came to me and said, 'Mom, I want to get a tattoo with Malik on it, rest in peace'," said his mother, Chuntera. "It made me feel good to know that he wanted his brother on him." So, Chuntera took Gaquan to get a tattoo with his brother's name and basketball jersey number. But Georgia law prohibits tattoos on anyone under 18, and when school authorities spotted the artwork, they called the police and Chuntera was arrested. Police are also trying to locate the artist who gave Gaquan the tattoo, but say Chuntera is refusing to cooperate. "What do I say to a child who wants to remember his brother?" she says. "It's not like he was asking me, 'Can I get Sponge Bob?'" But Acworth Chief of Police Michael Wilkie disagrees. "The tragedy of this is that the child's tattoos are some sort of memorial to a sibling who was lost in a car accident a few years ago," he said. "It may be that professional or religious counseling for their/her grief would be more helpful than anything." (MS/ABC-TV) …And here we thought "the tragedy" was the kid being killed by a car.
And on the local political scandal side, there's this one that made national headlines when it broke:
The Most Fun You Can Have in Uniform
Pinal County, Ariz., Sheriff Paul Babeu, 43, has resigned as the Arizona campaign co-chair for Republican presidential hopeful Mitt Romney, even though Babeu says it's "completely false" that he threatened his now ex-boyfriend with deportation if he revealed their sexual affair. Babeu now acknowledges he is gay — "In America, we celebrate our differences. That's what makes America exceptional," he says — but insists neither he nor his lawyer threatened his ex-lover, known only as a Mexican named "Jose", who was a campaign volunteer for Babeu's own political ambitions. Babeu is running for Congress as a hard-line border security Republican. (RC/Arizona Republic) …Finally, a clear explanation of what Republicans mean when they demand a "hard line" on illegal immigrants.
Oh, sorry: was I supposed to warn you to put your coffee down before you read that tagline? Oh well.
The Tattooed Kid
Really, school officials in Acworth, Ga.: you felt it necessary to call the police because a kid showed up with a memorial tattoo for his dead brother? Really?
OK, maybe there's a "must report" issue here, but is it then really up to the cops to diagnose grief issues and recommend treatment? Really?
And once the police were called in, they felt it necessary to ignore that they have a thing called professional discretion and instead felt it necessary to arrest the mother of the kid who got a memorial tattoo for his dead brother? Really? Talk about a nanny state.
Really, Georgia: if a kid really wants a tattoo, and the parents say it's OK, what business is it of yours? Not to mention that if there's ever a good reason for a kid to want a tattoo, the kid in this case has one. Yeah, I know tattoos are a big gang thing, but how about using some brains to deal with it, rather than a zero tolerance attitude, especially when a parent OKs it for a good reason?
Yeah, the kid getting a tattoo is a "tragedy," but his brother getting run over and killed is a statistic. Pull your brains out of your butts, gentlemen.
The Tattooed Sheriff
Then I'm trying to grasp the concept of an arch-Republican who has kept his sexual orientation hidden suddenly saying that "In America, we celebrate our differences. That's what makes America exceptional." So, his constituency bought that and agrees whole-heartedly? Really? Or is his political career over, now? It'll be interesting to see.
"But wait a minute," I know some of you are saying at this point. "What do you mean by 'The Tattooed Sheriff'?"
Yes, well, there's more to this story. In my summary, I pretty much necessarily had to concentrate on one of several factors. Another twist is that Sheriff Babeu not only took photos of his liaisons with Jose, but emailed at least some of them to Jose.
Here are two that have made the rounds — presumably these are some of the less risque, but one shows that indeed, Babeu does have tattoos: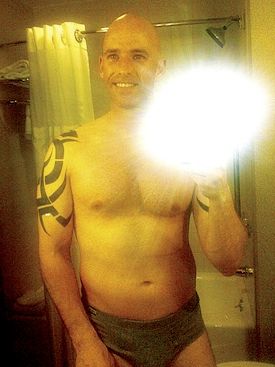 Babeu and his boyfriend, Jose, and Babeu in his underwear, enjoying himself in the mirror.
So What?
Indeed, so what: who cares what Babeu does on his own time? Isn't it his business? Indeed I agree: it is — unless….
Longtime readers know I enjoy pointing out the hypocrisy of holier-than-thou types, and the honest ones know I do it no matter whether they're from the left or the right. In this case, it's not Democrats who demonize gays and their supposed "homosexual agenda".
Perhaps I'm just a naive straight guy, but the only "homosexual agenda" I've ever seen is the organized and longstanding efforts of the far-right, who have been working like crazy to deny human beings the right to exist, to marry, to be full citizens.
No one, by the way, argued this more persuasively than Republican Thedore Olson, the former Assistant Attorney General [Office of Legal Counsel] for the Reagan administration, not to mention he is also the former U.S. Solicitor General under George W. Bush. Olson led the successful appeal of California's anti-gay-marriage Proposition 8, so I'm certainly not saying all Republicans are hypocrites on this issue!
Ignoring Recent Lessons
But really: didn't Babeu learn anything from (for two examples of many) Republican Mark Foley's "Congressional Page" scandal or Democrat Anthony Weiner's …uh… weiner scandal? The lesson that should have been "Don't circulate electronic copies of things you're trying to keep private"?
Babeu had the Weiner thing covered (no, not his underwear! I'm talking about Anthony, pervert!), noting he isn't married, and he isn't lying about the photos — he admits they're real, and of himself.
"These were photos that are mine, that I sent to an individual, that was meant only for their observation," he said. "Not to be splashed on the Internet or on TV or anything like that. There still needs to be some bounds for privacy."
Except when one's a public figure running for office, and of course someone is going to circulate them for political reasons, dummy!
And of course commentators and columnists are going to point and laugh — which is what my story is, after all. But hey, at least he's out of the closet now, and can revel in how in America "we celebrate our differences." Good luck with that theory when asking the far-right for campaign contributions, Paul.
Kill the Messenger! (Again!)
Anyway, when I finished writing this week's stories, I posted on Facebook that I predicted "some whining — 'anti-Republican!' — about the last story. Sadly, Republicans seem to be a lot more whiny than Democrats, even though I've had complaints from them, too…." (Such as when I did an entire special issue — nine stories and a headline — slamming one particular Democrat.)
Just saying that brought out some whining (such as "you are steeply slanted in your coverage. If you would spend as much time pointing out the lies of the Left as you do mocking the foibles of the Right, I doubt you'd get many complaints." — yet that is exactly what I've done over the years!), and one bald truth in retort to that complaint: "It seems to me that This is True is anti-stupid."
Exactly. If you really want to whine about my treatment of Babeu, start with telling me how he wasn't stupid. And certainly I would have run a story on him if he was a far-left-winger! Just like I did when that Other Guy did stupid things. So quit whining, and just admit that your guy was stupid.
Comments are open….
Babeu Update
Sheriff Babeu dropped his bid for Congress, and instead ran for a second term as sheriff. It took 7 months to investigate, but on 31 August the Arizona Republic reported that the Arizona Attorney General's Office cleared Babeu of any wrongdoing.
Very unfairly to Babeu, those results came three days after the primary election — but Babeu did win nomination in a "landslide" against three Republican challengers, the paper reported. He faced two challengers for his office, a Democrat and an independent, in the November election, but won the election, too.
"There is no indication [Babeu] misused any authority or misused public money to harass or intimidate Jose Orozco," announced Assistant Attorney General Todd Lawson. Orozco, the sheriff's former boyfriend who originally said he was threatened with deportation, was also not charged with any crime.
"During a news conference on Friday," the paper reports, "Babeu said his only regret was not disclosing his sexual orientation earlier."
– – –
Bad link? Broken image? Other problem on this page? Let Me Know, and thanks.
This page is an example of Randy Cassingham's style of "Thought-Provoking Entertainment". His This is True is an email newsletter that uses "weird news" as a vehicle to explore the human condition in an entertaining way. If that sounds good, click here to open a subscribe form.
To really support This is True, you're invited to sign up for a subscription to the much-expanded "Premium" edition:
Q: Why would I want to pay more than the regular rate?
A: To support the publication to help it thrive and stay online: this kind of support means less future need for price increases (and smaller increases when they do happen), which enables more people to upgrade. This option was requested by existing Premium subscribers.