Florida Man Marco Mazzetta is an absolute obliviot, so why would anyone want to follow his example? Well keep reading, because Florida Man Michael Popper followed Mazetta like he was a recipe. [Jump to that 2022 Update]
"Florida Man" really is a thing, and apparently so is "Florida Vehicle" (which, to be fair, is just a vehicle with a Florida Man at the wheel). Such stories led the past two issues (and ended up as Story of the Week both times), so let's take a closer look.
Last week it was an accident, more or less. (Click to see larger.)
More because it was accidental, but less because shouldn't a professional truck driver 1) know how to secure his vehicle properly, and 2) grasp that the "Bridge Clearance" sign applies to him? Well, apparently not in this case.
But that's child's play. Wait'll you get a full understanding of Marco Mazzetta's mentality. Let's start with his story, from True's 4 October 2020 issue:
He probably was minding his own business while tooling down the FL-417 highway outside Orlando, when a Nissan 370Z zoomed up and tailgated him.
So the Nissan "started it" — but Mazzetta escalated: he says he "brake checked" the guy, which caused him to bump into Mazzetta's truck's rear bumper.
That, of course, set Mr. Nissan off, and he zoomed around Mazzetta, who had a friend in the passenger seat. When the Nissan was in front of him, Mazzetta says, the other driver flashed a gun out his window (all the photos on this page are captured from his dashcam, which helpfully shows both the view ahead and inside Mazzetta's truck cab and out through the back window):
Breaking it Down
Well, it might be a gun, and probably is; let's just assume it is and break this down:
The Nissan driver's gun isn't pointed at him,
Mazzetta has total advantage in that he's behind the Nissan, and in a much larger vehicle, yet
he "feels" he's in some sort of danger, so he
pulls out his own pistol and starts shooting, right through his own windshield,
which means his bullets aren't going the direction he wants them to after being deflected through safety glass, and
it's almost impossible to control your own moving vehicle and shoot any gun, let alone a handgun, and actually hit another moving target while simultaneously being sure not to hit innocent bystanders (bydrivers?) in the vicinity.
Every one of those points is an element of incredible obliviocy.
But Wait, There's More!
Look closely at this screengrab taken as Mazzetta is pulling his gun:
According to his own drivecam, which apparently is GPS-equipped, he's speeding along at 98 mph to catch up to or keep up with the Nissan! And, as he lines up to take the shots:
…he's still going 96 mph.
I also like how this makes it clear that Mazzetta isn't leaning out the window to shoot, he's rather shooting through his own windshield, which resulted in him and his passenger getting sprayed with pieces of glass. A later view toward the front shows damage to the glass: see below for the news report from WESH Orlando.
Self Defense?
Chasing after someone to shoot at them doesn't sound much like self-defense to me. If he was afraid for his life because of the brandished firearm (even if it was pointed at him), all he had to do was take his foot off the gas, and take the next turn after the other driver passes it. That sure sounds a lot safer than the path he decided on.
And remember, all of this is based on his side of the story! As far as I've heard, the Nissan driver hasn't been identified.
I did check to see if, in the nearly two weeks since this happened, there are any updates — such as Mazzetta being arrested for wanton endangerment. So far, nothing, but I wouldn't be surprised to hear that charges were filed against him.
Did I say "obliviot" yet? Because it definitely fits. Statistics show that civilians using guns to defend themselves are much more likely to not injure an innocent bystander, such as the previous shooting breakdown I did in July — a police shooting: Peak Stress. In this case, the civilian with the gun sure looks like the "crazy" party.
The Video
2022: Presenting Mazetta's Protégé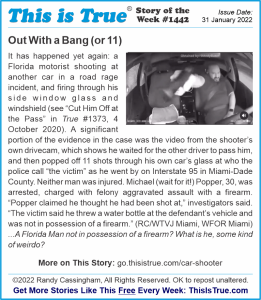 First, the story (again, you can click to see it larger).
The story is enough, but the video that supplied the still frame capture in the story is a gem.
It's below, only one minute long, and has sound.
You can hear the other motorist honking at Michael Popper. His response is to curse — then slam on his brakes, just like Mazetta — and take off again.
Popper clearly expects trouble from what he did: he casually opens his center console and unlocks a safe in there, from which he pulls out a pistol. He very casually waits for the other car to get beside him, and then he starts shooting, freaking out as he empties his gun: 10 rounds plus the 1 in the chamber.
Here is the result (police photo of the victim's car):
A gun going off inside an enclosed vehicle has got to be dangerously loud. His answers to police questions were probably mostly "What?" and "Huh?"
The caption to the video indicates Popper is a fire inspector. The audio is a bit loud, so you may want to turn your volume to low before clicking play:
Video from the dash cam of a civilian fire inspector shows him open fire during a road rage dispute in Miami. He told police he opened fire because he thought the other driver had a gun. The other driver was unarmed, but admits to throwing a water bottle. pic.twitter.com/298dmtINRv

— Shannon Watts (@shannonrwatts) January 29, 2022
After watching the videos the question to ask yourself is this: do either of these men appear to be in such genuine fear for their lives that they need to resort to deadly force in their defense? Sure doesn't look like it to me.
I was surprised that I never found any reports of Mazetta (the first shooter) being prosecuted. If I don't later find a report about Popper's prosecution, I'll be utterly amazed.
Update: As of Halloween 2022, I found no mention of Popper being charged for any crime. Astounding.
– – –
Bad link? Broken image? Other problem on this page? Use the Help button lower right, and thanks.
This page is an example of my style of "Thought-Provoking Entertainment". This is True is an email newsletter that uses "weird news" as a vehicle to explore the human condition in an entertaining way. If that sounds good, click here to open a subscribe form.
To really support This is True, you're invited to sign up for a subscription to the much-expanded "Premium" edition:
Q: Why would I want to pay more than the minimum rate?
A: To support the publication to help it thrive and stay online: this kind of support means less future need for price increases (and smaller increases when they do happen), which enables more people to upgrade. This option was requested by existing Premium subscribers.