Important Update Below
—
Sundays are writing day around here: it's the day I write This is True each week. This week, I had the usual line-up of stories about stupid people doing stupid things (or, as the case may be, smart people doing stupid things!) when I came across the story of Mark Rimkufski from the weirdest state in the union, which is of course Florida.

(Many seem to think that California is the weirdest state. It's not; not by far.)
Whenever I write a story, I try to remember to check for updates — I do a Google News search for something unique in a story.
As it happens, Mark Rimkufski is a reasonably unusual name, and I found two things: 1) there were no updates, but 2) a French web site had translated the newspaper story, and it was a good thing I wasn't drinking coffee when I spotted their headline. It was:
"Le Crétin de la Semaine Avait un Beau Badge de Policier"
— for the Franco-impaired, that translates to "The Cretin of the Week Had a Beautiful Police Badge". (Link removed; no longer online.)
Unfortunately, no one that I found had a photo of the badge, but who wouldn't immediately love the "Cretin of the Week" label? But I can't just steal it; I want my own label.
In fact, I've been thinking lately that I need my own "word" for the morons I write about, but nothing had come to mind yet. This story pushed me into doing it.
I needed a word that immediately brought to mind a certain mental image of an absolutely wanton moron, wasn't really in use yet (not in the Urban Dictionary) — and certainly not registered as a domain name. I thought about it for hours, and got suggestions from my wife (her idea, "f'idiot" — and yeah, the f' stands for what you think it does — but fidiot.com was taken, darn it!)
There's a real need for such a word. I mean, what sort of retard or dimwit would think, in this era of security (especially on airliners!) that he could get away with what Rimkufski tried? But let's pause here for the story, as I wrote it today:
Beats the Old Bomb Threat Gambit
Mark Rimkufski, 49, was late for his flight from Miami, Fla., to Los Angeles, Calif., and arrived at the gate after the doors were closed. He allegedly whipped out a badge reading "Fisher Island Chief of Police" and told airline employees he was a federal air marshal, so the doors were opened and he boarded the flight. But there were actual air marshals onboard who demanded to inspect the badge; there is no police department on Fisher Island, which has fewer than 500 inhabitants. After Rimkufski was tossed back off the plane, he retired to an airport bar where he was heard complaining about his treatment. He faces state charges of impersonating a law enforcement officer, and federal charges of impersonating an air marshal. (Miami Herald) …And Internet charges of being an tardwit obliviot.
The Word: Take 1
"Tardwit" is, of course, a portmanteau of retard and dimwit.
And no, I'm not going to bow to anyone who whines that the use of "tard" Just Isn't Politically Correct. There are no retards who read my work. Except, maybe, some politically correct whiners.
OK, that's flippant; I don't really expect everyone will like the word, and I certainly know that children (and immature adults) have a long history of misusing the word "retarded" — and a lot of other words.
The solution cannot be that mature people can't use the word anymore. We must argue against irrationality. We must argue against stupid reactions. We must demand common sense. We MUST take back our language.
The Down Escalator
As I said in response to one of the comments below, my point in using such a word (and I think the vast majority will understand it implicitly and immediately) is that political correctness demands that we shy away from perfectly good and valid words. "Crippled" became "handicapped" — which was great until people started objecting to that word, too.
Then came "differently abled" and other horrible constructions. I can walk today thanks to multiple surgeries; before that I was crippled, and to hell with anyone who wanted to patronize me with garbage like "differently abled." I can stand now, thank you, but won't stand for politically correct weasel-wording.
"Retarded" is a fine and useful word; it was not created as an epithet (as are a lot of words that are proper to disparage, such as racial insults). You don't have to like "tardwit," but I used it, I stand by it, and I'll likely use it again at some point.
While there have been many tardwits featured in True over the last almost-15 years, I hope you'll agree that this guy is worthy recipient of my first use of the word. And as for the slug (title), here's an example from True from 1995 of the old bomb threat gambit.
So, I'm fairly happy with the "new word." My first real chuckle, though, was when I searched it on Google, and this was their top suggestion: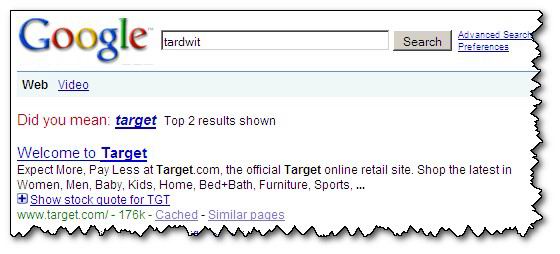 The Word: Take 2
Despite my defense, I wasn't fully satisfied with "tardwit" when I shut down Monday night, after the Premium edition went out. And while the overnight feedback has been mostly terrific, I couldn't put my finger on why I wasn't satisfied with the word until I read the note from Premium subscriber Joe in New York.
Before I get to that, I want to share a few of the other letters I got — and be sure to read the comments on this entry, too: there are some terrific and interesting opinions expressed.
But there was sputtering, too. One reader was especially clueless, appealing to me as "a Mensan" (translation: "I'm really, really smart and therefore you should listen to me") to withdraw the word, and then writing back minutes later to say she demands to be unsubscribed.
Well, if she's so smart, why doesn't she immediately grasp that I obviously provoke people on purpose at times, since getting people a bit angry is a way to get them to think? Yes, well, I guess she decided that thinking was Just Too Hard, and let herself get so angry that she couldn't think at all. Burn your Mensa card, Angela in Texas!
Now for the more thoughtful letters:
Suggested alternatives for "tardwit": [several clipped] and remember our eternal watchword, Idiopathic — from the Greek Idios (I do not know) and Pathos (what's more I do not care). –Dr. Marc, Illinois
With my medical background, it fits.
I like your "new word" tardwit. My wife teaches special education and sometimes flinches when I call bad drivers "retarded", so I started calling them cartard, which she said was better. My 11-year-old daughter had heard me use cartard several times, and when someone cut me off in traffic, I called him an a$$hole. She said, don't you mean Gashole? It brings a smile to your face when you see your children following in your footsteps. –Brent, Arizona
It gets me right there, Brent.
Stupid people deserve the ridicule they bring upon themselves. To compare them with the mentally retarded is insulting to retarded people. Just my two cents. I trust you'll read it with an open mind. –Deidre, Texas
We'll see if your trust is being upheld here, Deidre….
Hey Randy, just an FYI, unless your statement "There are no retards who read my work" was tongue-in-cheek, which I suspect it was, you're wrong. As one of your other readers pointed out this week, sometimes families read This is True together, and I read it to my daughter, Tesla, who has been diagnosed as mentally retarded due to brain injuries at birth. Despite her handicap, she is strong-willed and determined to succeed, and though she is later than our other children, at age 8 she is starting to read herself. So, I can verify for you that families do read This is True together, other kids grow up with it… and retards do read your newsletter. Keep up the good work. –Rusty, Kansas
You are correct, that was tongue-in-cheek.
I think tardwit is a good word, especially because I just assumed it was a U.S. word I hadn't heard before (I'm English). Naturally, as with any new word I see, I tried to work out the derivation. "Clearly," I thought to myself, "it means 'a slow-witted person', because tard has the same root as 'tardy' meaning late (as in the French 'plus tard' – later). Therefore a tardwit is a person who understands things a lot later than the rest of us." There, no mention of retards. That'll keep all the politically correct people from throwing a spaz. –Sarah, England
You have more faith than I, Sarah!
I thought "tardwit" was a stroke of genius but I beg you to decribe it as a blend of "retard" and "fuckwit" rather that "retard" and "dimwit". It was certainly the first thing I thought of when I saw tardwit. Your explanation suggested that you really didn't want the "f" word to be part of it, but I don't think it has nearly the negative effect these days that it used to. –Shaun, Victoria, Australia
Yeah, that'll settle people down!
The Key Letter
Despite all that, here, finally, is the argument that made me decide to drop the word — the one from Joe in New York:
Your stance starts on the false assumption that you are not also misusing the word "retarded" — you're applying it to people who are dumb, not people who have mental handicaps (for the purpose of this discussion, I am assuming "retarded" to be a shortened form of "mentally retarded" — yes, I work with a lot of lawyers…). So technically, you are misusing it.

Your call to "take back" the language is really just a call to be allowed to misuse a word at the expense of people with a real handicap. That "political correctness demands that we shy away from perfectly good and valid words" is a great argument for other words, but "retarded" is not a perfectly good and valid word to describe people who aren't actually retarded.

You're swinging the pendulum too far in response to political correctness. "Mentally retarded" didn't start out as an insult to be used against people who do stupid things, it started as a label for people who have legitimate mental problems. I don't know how many other readers will feel this way, and if the overwhelming majority doesn't mind, then I would expect you to go ahead with it. [But] the word "retard" is disrespectful to people who are actually retarded when used to describe people who are stupid or mean-spirited. Thanks for taking the time to read this. –Respectfully, Joe in New York
My Conclusion
So here's what I think: 80 percent of my readers don't care one whit one way or the other. And I'd guess somewhere over 19.9 percent absolutely love the "tardwit" concept. Therefore, screw the 0.02ish percent?
Well, no: Deidra in Texas and Joe in New York are right: calling stupid people (or, as I said from the start, smart people doing dumb things) "retards" — or a derivation of the word — may be insulting to them, but it's more insulting to people who are, in fact, mentally retarded, and I certainly had no intention of insulting them.
I do think "mentally retarded" (or, colloquially, "retarded") is a valid word, and like I choose to be fine with "crippled" and "handicapped" (and some segments of the gay community have taken back "queer," and some rural southerners have taken back "hillbilly"), I would support the community if they wanted to take back retarded, too (and, in fact, there's a comment from last night from someone who notes some Special Olympians have embraced "retard"). But I'm not going to fight that fight today.
Joe is correct: I did make the mistake of "swinging the pendulum too far in response to political correctness" — that PC types go too far is no reason to go too far in reply. And while I don't think I went way too far, Deidra's succinct conclusion is right on.
And then some magic happened.
I had already made the decision this morning to back away from "tardwit" when I got yet another great letter:
I've enjoyed your newsletter for years — it is always humorous and thought-provoking, which is a fabulous combination. And I love "tardwit"! Thought you might enjoy a word my husband and I came up with for one of the worst types of idiot — the oblivious idiot, a creature completely unaware of its own idiocy. There are quite a few idiots who have some faint, glimmering knowledge of their own idiocy, but there are always the ones who have no idea. Hence the term, obliviot. (If you like it, "steal" away!) –Anne, Washington
Perfect!
Why yes, yes I do like it, Anne! It's even better than my wife's "F'idiot" concept. It's exactly what I was grasping for when I was writing the story, since indeed the "creature completely unaware of its own idiocy" is exactly who I want to lampoon. Thank you for permission to "steal" it — I have, and the domain obliviot.com is pointed to this site (not to this specific page).
I have a rule against rewriting taglines once they're published, but I'm going to break it in this instance — I believe for the first time. I'll be replacing "tardwit" with "obviliot" in this week's story, so it'll appear that way in the free edition (if that story is chosen), the archive, and (eventually) the book compilation.
Thanks, all, for your feedback — pro and con.
Oh, and yeah: I fully expect some percentage of my readers to be "disappointed" that I "caved in" — in other words, I'll be damned for changing my mind, just as I would have been continued to be castigated if I hadn't.
That makes it a "can't win," so I may as well do what I want, eh?